Advising Collaborative Awards
The Academic Advising Collaborative has an Advising Awards Committee. The committee is made up of members from each college in the collaborative. Each year, the committee recognizes individuals for excellence in advising in the categories of: Advisor, Faculty Advisor, New Advisor, Advising Partner, and Advising Administrator.
Recipients are nominated annually by their peers for their outstanding work during the previous year. The Advising Awards Committee reviews the nominations and selects winners in each category.
The awards recognize individuals who have demonstrated excellence in advising by going "above and beyond" their expected duties. Nominees are judged on the evidence of qualities and practices that distinguish the nominee as an outstanding leader in advising.
New advisors are classified as having fewer than three years of advising experience. At the time the awards should have been presented, both recipients had fewer than three years of experience but now have more than three.
This is the 11th year of this recognition program.
2022-2023 Advising Award Recipients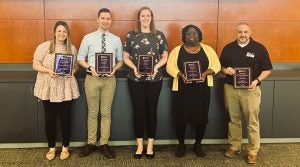 Advising Partner: Suzanne Vinson, Career Services
New Advisor: Ben Reyes, School of Music
Advisor: Jana Hill, College of Nursing
Advisor: Peggy Newsome, College of Arts & Sciences
Advising Administrator: John Trifilo, College of Arts & Sciences
Not pictured: New Advisor: Melissa Greenlee, College of Nursing
Advisor Kudos
If you would like to send your advisor a message of appreciation, you can do so here: Advisor Kudos.